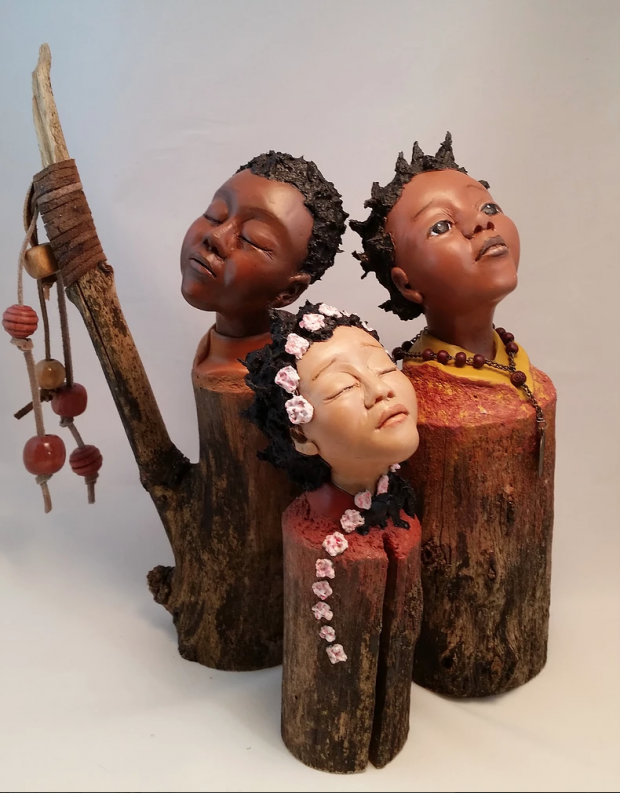 Event Location
Menomonee Falls Public Library
W156 N8436 Pilgrim Road
Menomonee Falls, WI 53051
Event Times
Social Time: 6:45 – 7:00pm
Business Meeting & Artistic Exchange: 7:00 – 7:30pm
Artistic Development Workshop: 7:30 – 8:30pm
folk art sculpture with Stacy Lee Ollmann
As a child, my mother created fantastic bedtime stories about my favorite dolls having grand adventures. While I don't remember the specific stories anymore, the feeling that these endearing, inanimate objects somehow had secret lives remains.
Using different types of clay, found objects and paint, I create my own cast of characters.  They emerge in their own ways—some whimsical, some poignant. Each silent face seems to show up with a secret—a story—an emotion—a mission. Many seem intent upon finding bliss and creating harmony. They invite us to share their tranquility and contemplate the cosmos.​
Studio time has become a spiritual practice for me.  It's an exercise in being fully present in the moment (without the awareness of the passage of minutes and hours). I immerse my attention in the tactile quality of the clay, the richness and variety of the colors, the consistency of the paint on my brush . . . I fall in love with the subtle emotions that emerge upon the faces of my creations. The studio is my temple; the creative process my meditation.