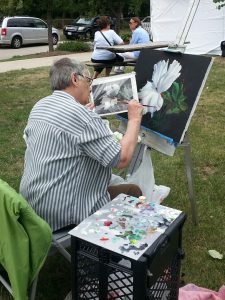 ** CANCELLED for 2020 **
Event Location
Kiwanis Park
northeast corner of Menomonee Ave & Town Hall Rd
Menomonee Falls, WI 53051
Event Times
CANCELLED
Sunday, August 23, 2020
10:00am – 4:00pm
Art in the Park will again partner with Milwaukee Area Resource Network (MARN) to bring in even more artists from the Milwaukee metro area!
Visit Art in the Park for a refreshing look at the creative talent of our community. This rain-or-shine event is free to the public. Members of the Art Guild of Menomonee Falls, hobbyists, amateurs, professionals, competition painters and the simply adventurous are invited to create their art outdoors.
This is one of the most compelling experiences our artistic community offers. Together, artists and spectators are immersed in the creative process. See the scenes and how the artists interpret them.  Smell the wet paint, touch the tools, hear the problem solving and get caught up in the excitement of watching a piece of art come to life before your eyes.
Scheduled annually in August
Held at Kiwanis Park
Sponsored by Art Guild of Menomonee Falls
CALL FOR ARTISTS!!!
Download AITP Application 2019 and return by July 19, 2019 to participate.